Virtual Board Meetings
Tuesday, March 31, 2020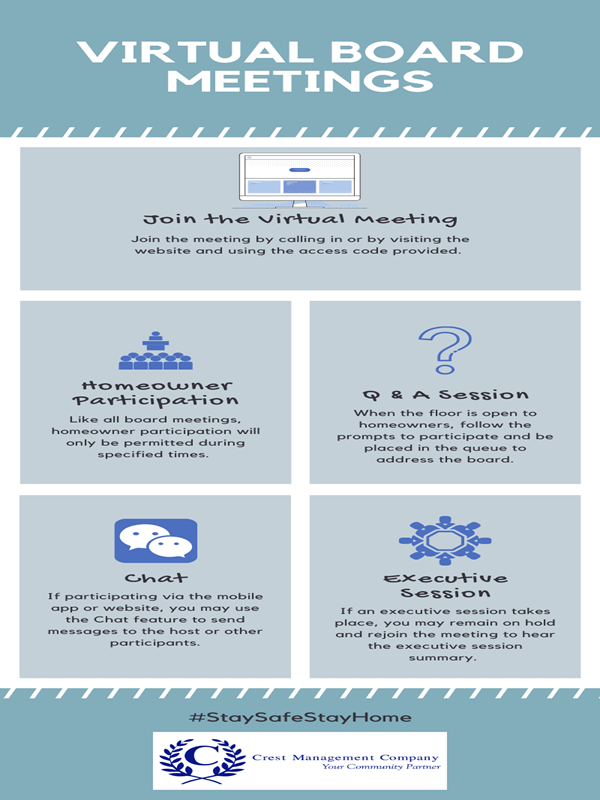 You may join the virtual meeting with a landline, cell phone, computer or tablet. For each virtual meeting, you will receive a unique dial-in number, access code, international dial-in number, online meeting ID and link to join the online meeting. This may come in an email or it may be located on the agenda. For step-by-step instructions with images of how to join, please contact your Community Manager.


Homeowner Participation
Just like in-person meetings, the Board of Directors will conduct business while any homeowners present listen. Homeowners will only be permitted to participate during specified times. To ensure the meeting runs smoothly with limited interruptions, all homeowners in the conference call will be placed on mute until the floor is open for participation.
Q&A Session
When the floor is open for homeowner participation, the operator will advise all participants that the Q&A session has started and will instruct you how to participate. Follow the prompts to be placed in the queue. The operator will tell you when it is your turn and you will taken off mute.
Chat
If you are participating via the mobile app or computer, you may use the Chat feature to send messages to all participants or to a single participant.
Executive Session
Some Associations may hold an executive session at which time homeowners are not permitted by law to be present. If an executive session is held, homeowners will be placed on hold. When the executive session concludes, homeowners will be taken off hold and provided with a summary of decisions made during executive session.
Leaving the Meeting
From a landline or cell phone, disconnect the call when you are ready to leave the meeting.
From the computer, close the web browser when you are ready to leave the meeting.